Image in that
We all want to make our work stand out and many times you will have wanted to insert a fun or informative image into a word or PowerPoint file. Some of you might remember the good old days where office came with a second CD which had clip art gallery on it.
Well those days are gone, Microsoft decided not to ship limited and low resolution images with their product and initially introduced in earlier office versions the ability to add from the internet using Bing Images, this was less than satisfactory for many. which meant going and finding your images and then saving them and inserting them manually for many.
Well things have changed again and for those of you with Office 365 or a new copy of Office 2016 you are able to use some really nice add-ins which allow you to insert images directly into your documents from the tool bar. Here are my favourites.
The first is Pexels,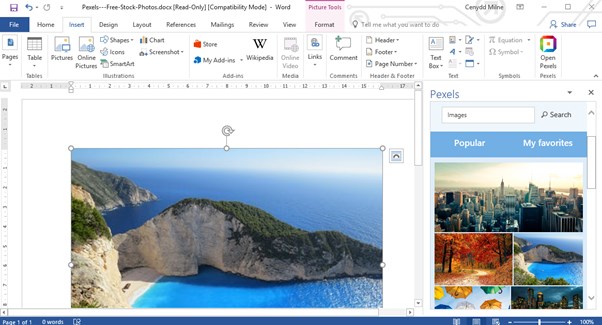 Just going to the insert tab on the ribbon and choosing pexels from the right icon brings up the pexels search interface,
you can then search and browse through pictures you might like to use, all of which are free and do not require attribution. If you find one you want to use you just click it and it will be inserted at the cursor position. If you want to use it again in future you can select the red heart which will add it to the My Favourites area.
The second is PickIT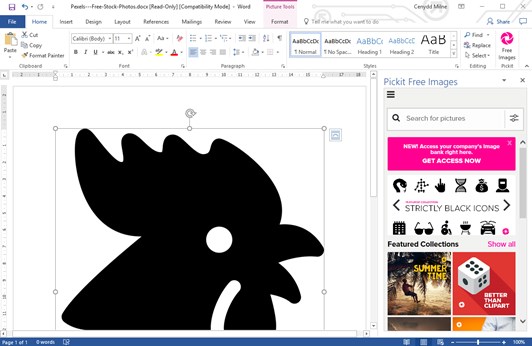 The button is added this time to the "home" tab. When opening the PickIT menu you will find "collections" as well as the search, the collections can contain interesting images to browse and the search also provides "tags" for you to be able to link quickly to similar images. To insert the images is just as easy, you click the image and it will display in a larger frame, and then you press the insert button.
Installation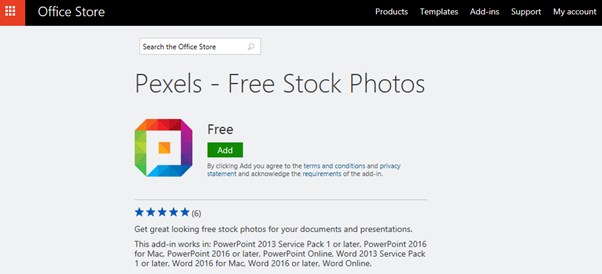 To install either Pexels is easy, Visit –The Store Here
And for PickIt  – The Store Here
Click Add and follow the instructions provided to add to both word and PowerPoint