Delay Sending
Have you ever clicked send and then suddenly realised you forgot the attachment, or included a recipient who should not receive that email. You try to catch it but it is too late, it has gone.
To mitigate against that there is a setting in outlook which allows you to delay sending messages, they are then placed in your outbox and will send later, if you make the described mistake you can catch the message and modify it before it leaves.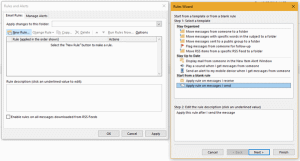 To do this head to "Rules and alerts" and select "new rule" Select "apply rule on messages I send and click next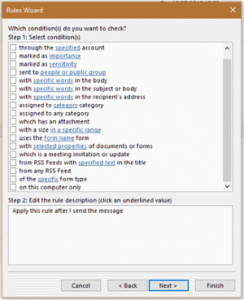 You can now choose a filter if you want to restrict the action to mails with particular properties, for our purposes we want all messages to be affected so just click next

You will then be warned that this will apply to all mails you send, this is normal and you can click "Yes"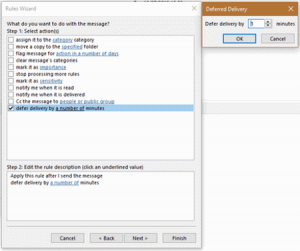 On the next dialogue tick the option "defer delivery by a number of minutes" and then click the underlined "a number of minutes" and in the option box enter the number of minutes you would like the message deferred by, remember this is going to apply to all messages so do not make it too long.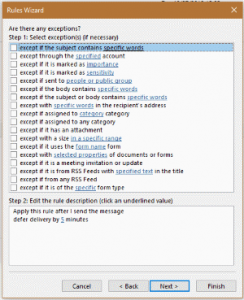 Once done click "OK" and then "next". The final options are exceptions to your rule, so you can just click "Next"
Finally the completion box, give the rule a name and ensure the rule is turned on,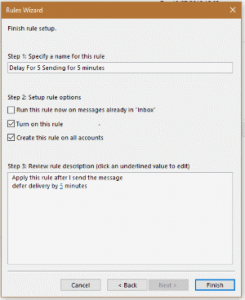 You can apply to all accounts if you do have multiple accounts on your system.

Once you have clicked finish the rule will warned you that it will only work in outlook when you have outlook open, this is expected and you can click OK.
Now you have finished and all your emails will go to the outbox and wait for the selected number of minutes before leaving.
Turn Off Auto-complete
Have you ever typed the first couple of letters of a recipient, hit return and sent a mail to the wrong John
This is a common problem created by the convenient auto complete in Outlook however for some it is a risk too far. If you would like to turn this off so you have to get your address manually from the address book or type it you can do so as follows

In Outlook click the File menu and select Options.
In the Outlook Options window click the Mail tab, Scroll down to Send messages. Un-check the Use Auto-Complete List to suggest names when typing in the To, Cc, and Bcc lines box.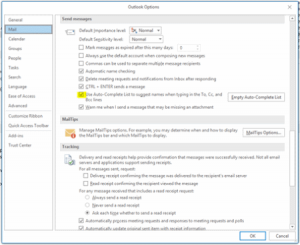 You can if you desire also empty your autocomplete list here however if you do so it is not recoverable so only do this if you are sure and happy to start the list again.