In November I have been Going With The Flow
This last few weeks we have been looking at the new Microsoft Flow. It appears to be the solution to so many of the problems found when using cloud services that I have spent some time trying to use it to meet a number of the things we have come up against and have not found it wanting.
In the old days when everything was on a server in noisy room at the end of the hall that you went into to change the backup and get that toner cartridge but otherwise kept away, when you wanted to make two pieces of data or information interact you could have CenCom write a script, you could buy a piece of software or you could manually just copy and paste things reasonably quickly. You were limited by the technology but within those limits you had control over the data interaction
Then along comes the cloud, a disparate set of "data nodes" which cannot see each other, and even when they are with the same provider, different usernames and passwords for each one means logging on and off all the time and creating frustrations.
here are two real world examples I have used Flow to solve.
The multiple Office 365 Exchange Calendars

The problem – You have two calendars for two different Office 365 Tenants, lets call them A and B. You want Members of A and B to be able to see your availability but you do not want them to have to invite you twice to block out both diaries, so you want both calendars to show the same information.
The Solution – Flow, a rule which adds the calendar entry from A to B and vice versa when they are created. The rule looks at one calendar and when a new entry is added it can create another matching entry in the other calendar so both are now booked. you can use validation rules to only block out work time for example if A or B is a personal calendar.

Camera upload to OneDrive, But you want it in OneDrive for business.

The Problem – You have a mobile device with a camera. The pictures taken can be set to upload automatically to the "camera roll" folder in your OneDrive (or Dropbox) but you would like to have the items in a sharepoint library for your co-workers to see or your OneDrive for business.
The Solution – Flow, A rule which copies newly added items from your OneDrive or Dropbox into a SharePoint library or your OneDrive (or other online storage platforms) can be created allowing you to have your pictures exactly where you need them.
These are just a couple of examples of the power and versatility of Flow with your cloud services.
What else can it connect
Well here is a sample of just some of the things you can connect
SharePoint
OneDrive
Exchange Online
GMail
Facebook
Twitter
SalesForce
Microsoft Dynamics
Wunderlist
Microsoft Project Online
Yammer
YouTube
How to get started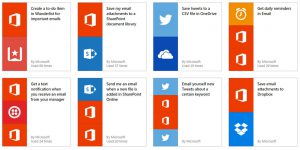 It's easy to start using Flow, if you have a Office 365 subscription just go to https://flow.mircosoft.com and logon with your workplace logon, there you will be presented with videos on how to use it and ready made templates to configure the flows you need. If you have any problems just ask and CenCom can help.
How much does it cost?
Well there are three options for Flow,
FREE – yes no cost if you are already using Office 365 you can have 750 runs (in the above example that would be 2000 calendar appointments added or pictures taken) and it runs every 5 minutes.
£4.00 per user per month – For a bit extra you can have 4500 runs per month and the flow runs every 3 minutes, additionally you get an unlimited number of APIs to connect to your own systems. Additionally you get access to the premium connections like Common Data Service and Salesforce
£10 per user per month – Power Users who need to supercharge the service can get 15000 runs per month and a frequency of every minute. Additionally you get access to the premium connections like Common Data Service and Salesforce