CenCom Solutions Helpdesk is there to assist end users to resolve problems.
The easiest way to get the best service from us is to use the agent you will have installed supported workstation.
Find the agent
The icon for this is in the system tray (by the time usually in the bottom right corner of the screen, it looks like this

If it is not visible you might find you need to press the
and you can drag and drop the icon onto the visible part of the system tray.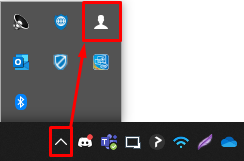 CenCom have distinct categories for cases and a different process for each type.
Break Fix?
The first and most common is "break fix" this is when a issue has occurred which prevents you doing what you would expect to be able to do, this often presents an error or warning message.
Before raising a case check your system has restarted recently and check if any other users are experiencing the same problem.
If you still need help then please leave the error on the screen if possible (the system will take a screenshot to send to us) and right click on the agent icon you will get a menu, click on "New Break Fix Case"

An email will open in outlook ready, please add any additional information such as
When the problem first started
The users affected are
The systems affected are
The steps to reproduce the issue
Once we have the information, we will endeavour to resolve the issue in 3 stages, you can see those stages here.
Requests
As their name suggests when you would like CenCom to do something for you, this might be to add some software, or it might be to retire a user. For this you can also use the agent icon but this time choose the "New Request Case" option.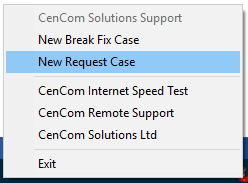 This time please give as much detail as you can, and we will do our best to perform the request as soon as possible. We again may need to gather more information and if your request is security sensitive, we may need permission from someone else at CenCom or your company.
You can of course email support@cencom.co.uk or call on 01892614040 as well.